QEUS APS SERIES
The QEUS APS SERIES is a speaker system of unprecedented compactness that fits perfectly into any room.
The problem solver
"The QEUS APS Series loudspeakers are the unique solution for almost all sound applications, elegantly discreet, powerfully superior in performance."
The QEUS APS Series can focus on the frequency spectrum above 170Hz (APS50/APS70 above 160Hz, APS100 above 150Hz and APS120 above 120Hz) with a phase correction previously uncommon in this price range. The APS drivers focus sound energy and, combined with redefined speech and music intelligibility, achieve unprecedented range. Whether you use a digital, analogue or tube amplifier as your sound source: The APS behaves similarly to a real resistor.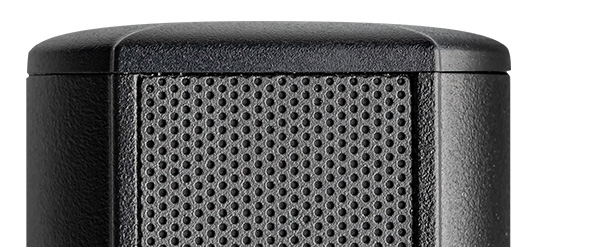 The design of the APS avoids the usual high, complex loads found in all conventional passive loudspeakers.

These new technical features of the APS Series allow to use the speakers in a variety of ways: From an unobtrusive centre speaker, the use as an additional pair in existing systems, to stand-alone use in complex multi-channel surround systems. In addition, the APS Series is also available as a 2.1 complete system with subwoofer and specially developed crossover.

The latest technology in all components
The QEUS APS Series speakers deliver an unprecedented sound experience. The horizontal dispersion angle is 160° and the vertical dispersion angle is 40°, which makes the loudspeaker almost unlocatable to the human ear. With the QEUS APS Series the sweet spot grows to unprecedented size.

The QEUS APS Series enables a unique ambient sound. In contrast to conventional technology, the sound level varies significantly less. While conventional systems have a sound drop of 6db per doubled distance, with the QEUS APS Series it is only half of that with 3db.